14% of Adults asked for ID online during Lockdown
Nomidio research finds more than 3 million UK adults asked to prove identity via unsecure digital channels since Covid-19 lockdown
In a recent survey we found that 14% of UK adults, around 7.2 million people, have been asked to prove their identity remotely since March 23 in order to open an account or use a service. In a way it's unsurprising. After all, that's the date when the UK was put into a state of lockdown in an unprecedented step to limit the spread of Covid-19, making face-to-face meetings all but impossible.
It's also unsurprising to hear that organisations have done all they can to keep the cogs of our daily lives turning during this crucial phase, allowing people to remotely manage accounts, take out loans and access the services they need.
This shift from traditional in-person ID checks towards remote verification was helped on its way in part by the Financial Conduct Authority's signalling to existing flexibility in its regulations, allowing for firms to process applications remotely while social distancing measures were in place.
While convenient for many people and businesses, our survey revealed that some remote ID verification practices were troublingly lacking in basic security and privacy measures, opening up vulnerabilities and security gaps that could be exploited on several counts.
The key mistake being made is that 46% of those asked to prove their identity – around 3.3m UK adults – were asked to send their ID and personal details via email, an unsecure method for such valuable documents due to the ease in intercepting email and the lucrative dark web market for personal data.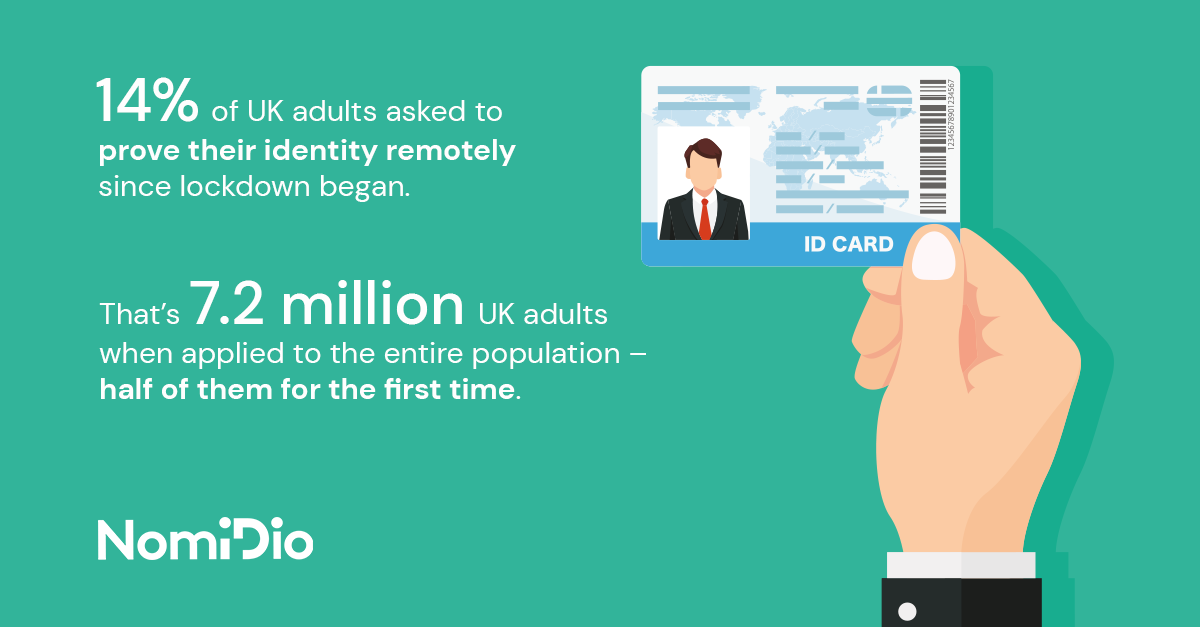 Biometrics
Although around a quarter of consumers are being asked to use biometrics to remotely verify their identity, only 20% were asked to perform a "liveness" test – widely considered a necessary step for biometric identity verification, with a surge in identity-related fraud the likely consequence.
While many organisations are open to remote verification, it's unfortunate that security and privacy are suffering due to poorly implemented processes. As remote verification continues to gather pace, as we expect it will in a post Covid-19 world, it is imperative firms implement a biometrically enabled remote identity system incorporating a liveness check.
This functionality can now be easily delivered as a service from the cloud. For example, our customer Hitachi Capital implemented Nomidio in just 24 hours to help administer Coronavirus Business Interruption Loan Scheme applications, following a four-fold increase in demand for remote applications.
For the user, Nomidio IDV is a cloud-based, smartphone-centric identity verification service. It offers a simple three-step process (ID verification, liveness check, face match with ID) allowing organisations to verify new users rapidly, and without the need for the company to store any sensitive data themselves. The rigorous nature of its encryption ensures Personally Identifiable Information and biometric attributes are individually encrypted, making it a government-grade secure service.
If you would like to find out more about Nomidio IDV, click here
About the research
The research was commissioned by Nomidio and undertaken by independent market research firm Opinium during May 2020.