When we think of identity in today's digital world, we instantly associate it with risk. As a consumer you think about your personal data scattered online across hundreds of organisations and thousands of databases. As a business, you think about the enormous compliance risk introduced by GDPR and whether you can actually protect your customers' data. And we all worry about the alarming regularity of data breaches.
You could say the way our digital identities are managed is fundamentally broken. We'd agree, and Nomidio is here to fix it.
Nomidio is a company dedicated to building a foundation for Self-Sovereign Identity (SSI), where user data is properly protected and privacy is assured by a combination of our ultra-secure cloud and emerging technologies.
Importantly, we achieve self-sovereignty in partnership with organisations by helping them use only the identity data they need to, often based on characteristics of underlying personal data – without organisations having to actually store Personally Identifiable Information (PII). Our approach brings businesses, consumers and privacy groups together to achieve a more balanced and equitable relationship. Our technology achieves this by:
Giving the user back ownership of their identity

Enabling businesses to work with only the Identity data they truly need and in a way that greatly reduces regulatory risk and intrusion
A unique multi-party cryptographic approach that assures user privacy and drastically minimises potential for the abuse of identity data.
Our initial offers to business comprise Identity as a Service (IDaaS) and Identity Verification (IDV).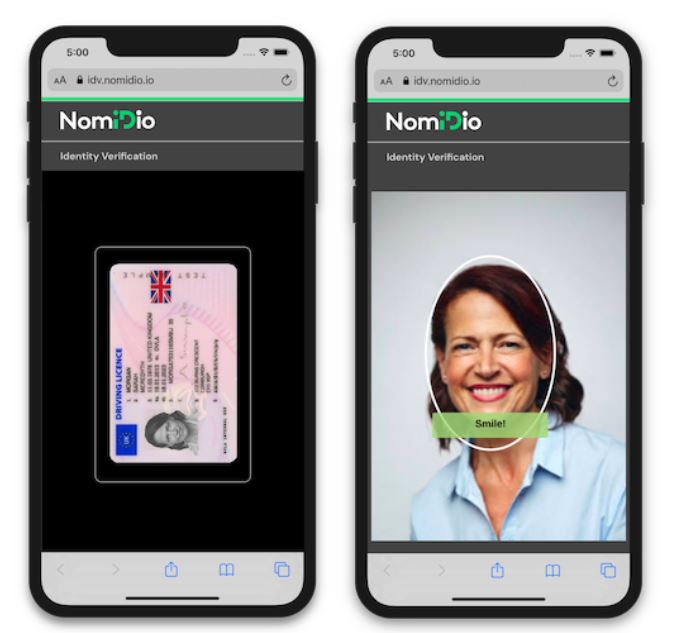 Nomidio IDaaS
Nomidio IDaaS is a biometric customer identity service that lets organisations authenticate customers quickly and easily without using passwords. Designed initially for contact centres, IDaaS reduces average call times by 60 seconds and the 100% cloud service can be provisioned in less than 10 minutes from the Amazon Marketplace.
IDaaS is based on the Nomidio Identity Cloud, a quantum-safe encrypted cloud for Personally Identifiable Information (PII). The Identity Cloud means consumers can register their identity information once with Nomidio so when they authenticate with different businesses in the future, all they require are their biometric identifiers.
The privacy of individuals is assured by unique multi-party cryptography meaning not even we at Nomidio can decrypt their data without consent from multiple stakeholders. Meanwhile, businesses can harness PII using tokenised / anonymised data for the processes they need to carry out, like analytics and marketing, whilst respecting user privacy.
Nomidio IDV
Nomidio IDV is a cloud-based, smartphone-centric identity verification service that organisations use to legally verify the identity of their customers.
A simple three-step process makes remote identity verification secure and user-friendly. First, an ID check ensures a genuine and valid document has been presented. Second, a liveness check via a selfie video confirms the person is physically present. Finally, a face check matches the person to the ID document.
Nomidio's ethical approach to identity is borne out of the ethos of our parent company, Post-Quantum. A small but extremely well respected team of British cryptographers, who work with organisations like NATO, Post-Quantum's algorithm is a finalist in NIST's competition to identify a replacement for the public-key cryptographic standards that protect the web today (RSA & Elliptic Curve). At Nomidio, we're fortunate to have access to this talent and a wide range of valuable IP, both of which we've focused on improving identity.
If like us you're passionate about privacy and identity, or if you'd just like to learn more, please connect and we'd be happy to talk.